Bling City Workshop Project
Bubblewrap Arts was the name of my studio and the platform started in 2005 used to support others with advice on what to do next. I helped to find part time employment, to build a comprehensive portfolio for further and higher education, to build confidence through practical experience and added strings to their bows. I found extending myself and sharing ideas both rewarding and fulfilling.
April 2009:
A1 Community Center,
Roseberry Avenue,
London WC1
Supported by Holborn Community Project
05 June- 26 June '09
St. John's School
Upper Holloway, London
In 2009, the Workshops changed completely, due to a fire in my studio that destroyed a lot of my works and materials. After that in response to the fire i started working wet and flat,creating new dynamics and a new direction. In the beginning, I was sticking recycled materials on canvas as a collage, but I became interested in the marks left by the object when working with wet colour. At this point the process evolved, revealing the potential to experience creation itself.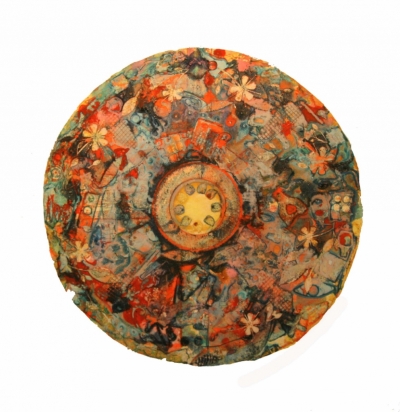 Freya Van Lessen:
"Taking part in Chico's workshop inspired me in so many ways. Not only did I learn a method that enabled me to make artwork to a standard I never thought possible, but more importantly, going through the process gave me an opportunity to experience creation itself. The challenge of completely letting go, the experience of relationships between colour and shape, form and texture, nature and nurture. Moreover, the opportunity to spend time with such a talented and generous soul with a truly unique perspective who sees the potential in all things and all people, is one I will forever cherish."
Giles Bernard,
"Chico's work exposes the endless, unlimited side to a city; it's beauty and it's ugliness, it's limitations and also it's possibilities, the way people move within a city and the way that a city moves people. In the Bling City series, Chico puts to work the materials that the city offers up to him- found materials, sweet wrappers, corrugated cardboards, nails, pieces of wood, glass and uses them to focus back on the city itself. At first, the pictures suggest that everything that glitters could be gold. Chico doesn't shy from showing a city at it's most beautiful, but he also forces us to look harder, stripping back the layers, and revealing the grain, textures and patterns that surround us.
Elsewhere in the collection, his work in wood builds on the theme- burnt, scraped, cut, scarred and scratched, the material itself leads the artist, giving depth and feeling into the images. All the pieces reflect nature at work in an urban environment and the city's continual shifts and changes as new layers are heaped upon old. But they also remind us what never changes, as continual wear and tear, a kind of urban erosion, reveals sections of the past again. It is a fascinating workshop that explores people's complex relationships with the city. A relationship as fickle and unpredictable as any we will have in our lives."
In 2012, I worked with an eleven year old girl called Julia who is now studying Art and Design at Westminster College. The outstanding results of the workshop showed me the potential of the process for building and developing confidence and self esteem, using the creative force.
Future Goals and Aims
To start an art charity with donated pieces from the workshops. I'd like to see the workshops go to special needs children and disabled people on a larger scale, to help bring awareness and raise money, and on a personal level as an artist, to give something back.